Forest School
Forest School offers children regular opportunities to undertake hands-on learning experiences in local woodland, which provides the perfect space and environment for them to explore and discover. Through Forest School children are able to develop a lifelong love and understanding of the natural environment, whilst developing the core skills of the Forest School ethos, namely, development of self-esteem, creativity and confidence and the ability to assess risk and make their own decisions.
The philosophy which underpins the Forest School movement is to encourage and inspire children, through mastery of small, achievable tasks in a woodland environment, to help them grow in confidence and independence and develop a sense of self-worth. Children acquire new skills as they are ready for them, so that activities maintain a degree of challenge and excitement, whilst remaining safe and controlled.
Children associate natural outdoor settings with freedom, which encourages unrestricted play and often means that children are less inhibited and more likely to join in with activities and engage with others.
Location
All Forest School sessions take place at the Biggen in Duxford, which is located down a small footpath to the right-hand side of St. Peter's Church.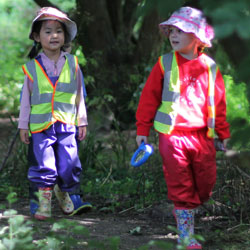 The Biggen is a spacious plot with large mature trees, an open grassy area and access to the River Cam and is ideally suited to a whole host of activities. At Forest School we take our inspiration from the woodland environment and use the natural resources found on site for many of our activities e.g. den building, willow weaving, insect safaris, mud sculpting, bark rubbing, natural art and whittling.
Every activity we do in the outdoors has an impact on the immediate environment and we ensure the ecological impact of Forest School at the Biggen is minimal and we try to instill a sensitive attitude towards the environment in the children.
We aim to hold Forest School sessions every Tuesday and Thursday morning throughout the year in all weathers; however, if there are high winds and a danger of falling branches, we then base the session in the Sunshine Room. If the weather gets very cold, we keep the children active and parents need to ensure that the children are wrapped up warmly with plenty of layers.
Clothing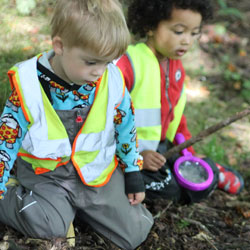 It is important that all children have appropriate clothing that is suitable for all weather conditions. Regardless of the weather, children are expected to wear long sleeves and long trousers at all time to protect them from scratches, stings and insect bites. A waterproof jacket and wellies or other waterproof boots are also essential. A sun hat is necessary during the summer months and a warm hat for winter time.
Tick Awareness
There is a risk of ticks at the Biggen, due to the presence of deer and the best way for children to avoid a potential bite is to cover up with long sleeves and long trousers. We also suggest checking your child over once they get home from Forest School, perhaps before having a bath, to look for any ticks. In the unlikely event that you find a tick on your child, take the following steps:
Remove the tick as soon as possible
The only safe way to remove a tick is to use a pair of fine-tipped tweezers, or a tick removal tool
Grasp the tick as close to the skin as possible. Pull upwards slowly and firmly, as mouthparts left in the skin can cause a local infection
Once removed, apply antiseptic to the bite area and keep an eye on it for several weeks for any changes
Contact your GP if your child begins to feel unwell and remember to tell them about the tick bite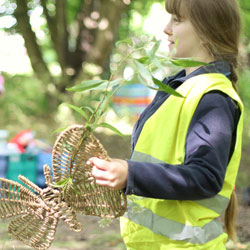 For more information about tick bites, please see the following document:
Staff
Carrie is a qualified Level 2 Forest School Assistant and Danielle, Gail and Joanne have all completed an Introduction to Forest School course. Heather is a qualified Forest School Leader.
In line with the principles of Forest School we maintain higher adult:child ratios for all Forest School sessions, with additional staff and the help of parent volunteers.
Contact
If you need to urgently contact a member of staff on a Tuesday or Thursday morning when we are at Forest School, please call the Preschool's mobile number 07801 931391.
Further Information
For further details, please download the Forest School Parent Information Pack, or see the links below to useful websites about Forest School in the UK.
Forest School Parent Information
Links
Forest School Association (forestschoolassociation.org)
Green Light Trust - What is Forest School? (greenlighttrust.org)
Forest Schools: impact on young children in England and Wales (forestry.gov.uk)